It was all accolades and excitement in the air as over 20 Paramount Rulers in the Asante Kingdom as well as the Mayor of Kumasi extended their warmest greetings and welcome to H.E Amb. (Dr) Jonathan Ojadah, Acting Global President of the United Nations International Peace and Governance Council, USA, to the Grand Akwasidae festival at the Manhyia Palace in Kumasi.
Amb.Jonathan who was accompanied by the UNIPGC Ghana Country Director, Prof Hugh Aryee, the Director of Media and Communications, Dr Moses Okine, the Executive Secretary, Ms Alberta Adumiah and Patron of UNIPGC GHANA Council, Bishop Dr Peter Sackey as well as National and Regional Executives of the United Nations Association of Ghana, paid a courtesy visit call on His Royal Majesty, Otumfuor Osei Tutu II in preparation for the 11th Edition of the PAN AFRICAN LEADERSHIP INVESTMENT SUMMIT AND HONORS (PALISH ACCRA2023).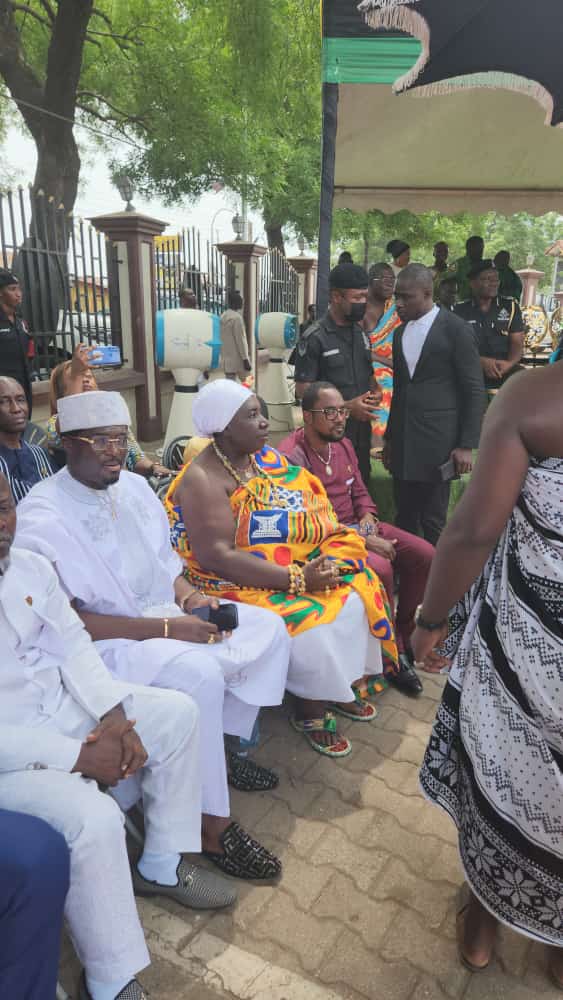 Amb Dr Jonathan had series of fruitful discussions and deliberations with several prominent personalities including the Mayor of Kumasi, H.E Sam Pyne on the need for a close working relationship.
The Acting Global President of UNIPGC & CIPG Amb.Dr.Jonathan Ojadah was present as a special guest of the Asantehene, HRM Otumfuo Osei Tutu II was very enthused and very joyful to be part of the first colourful Akwasidae of 2023, at the Manhyia Palace, which was full of pomp and pageantry.
Speaking on behalf of the group and Addressing the Asantehene who was sitting in state at Manhyia, Bishop Dr Sackey , said the joint collaboration being embarked by both groups is aimed at empowering the rural communities , through the introduction of viable agric projects which seeks to foster sustainable financial self sufficiency to the marginalised farmers and food security to the communities as he pledged the support of the Council to improving the livelihoods of the rural farmers .
The Council praised HRH Asantehene for his selfless and remarkable leadership which has been acknowledged, acclaimed globally and on this note, the Global Acting President conferred on him the Grand Patron of UNIPGC GHANA of the joint groups
The Akwasidae durbar also saw the coronation of Iconic American Actor, Idris Elba as a Prince of the Ashanti Kingdom.