Sadiq Khan has arrived in New York to begin his tour of the US aimed at boosting London's economy.
Over the next four days, the mayor of London will travel to San Francisco, Silicon Valley and Los Angeles.
The tour includes meetings with senior politicians and business leaders at Google and LinkedIn.
Mr Khan said he intended to use the trip to "bang the drum for London" tourism following the Covid-19 pandemic and also for tech industries.
"What's really important is that we encourage international tourists back to our city," Mr Khan said.
'Need them back'
"We will encourage tourists, we will encourage business, we will encourage investment. We are the greatest city in the world, but we have had a horrible two years."We want them back, we need them back."
On his first day of the tour, Mr Khan met with the former mayor of New York, Michael Bloomberg, who ran the city from 2002 to 2013 and was a candidate for the 2020 Democratic nomination for US president.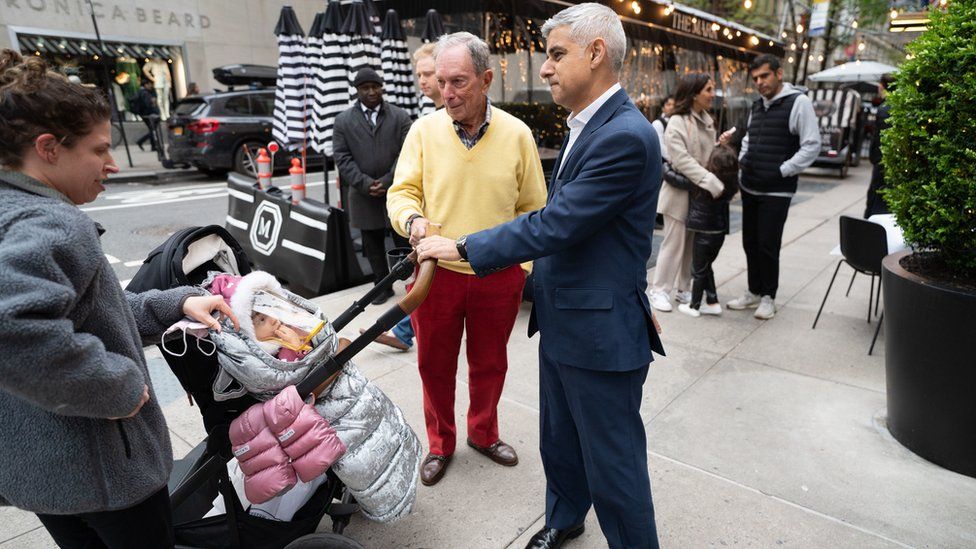 Greater London Authority (GLA) figures show London lost £7.4bn of international tourist spending in 2020 alone.
Tourism supports as many as one in seven jobs in the capital and contributes almost 12% of London's GDP, according to the GLA.
In 2021, the number of overnight stays made by tourists to the capital more than halved to 60.8 million from 147.4 million in 2019.
The tourism campaign will invest £3m in aiming to attract more domestic tourists back to the capital. A further £7m will be dedicated to international marketing campaign to try to drive international tourists back to London.