The Minister for Lands and Natural Resources, Hon. Samuel A. Jinapor (MP) has paid special tributes to the Ghana Armed Forces for its unalloyed support for the Ministry in the execution of its projects and initiatives aimed at protecting the environment.
Hon. Samuel A. Jinapor relayed the admiration of the Ministry and government for the works by the Ghana Armed Forces (GAF ) when he paid a courtesy call to the Chief of Defence Staff, Vice Admiral Seth Amoama on Thursday, January 5, 2022.
Hon. Jinapor noted that the Ministry enjoyed tremendous support from the Ghana Armed Forces in the implementation of projects such as Green Ghana, among others.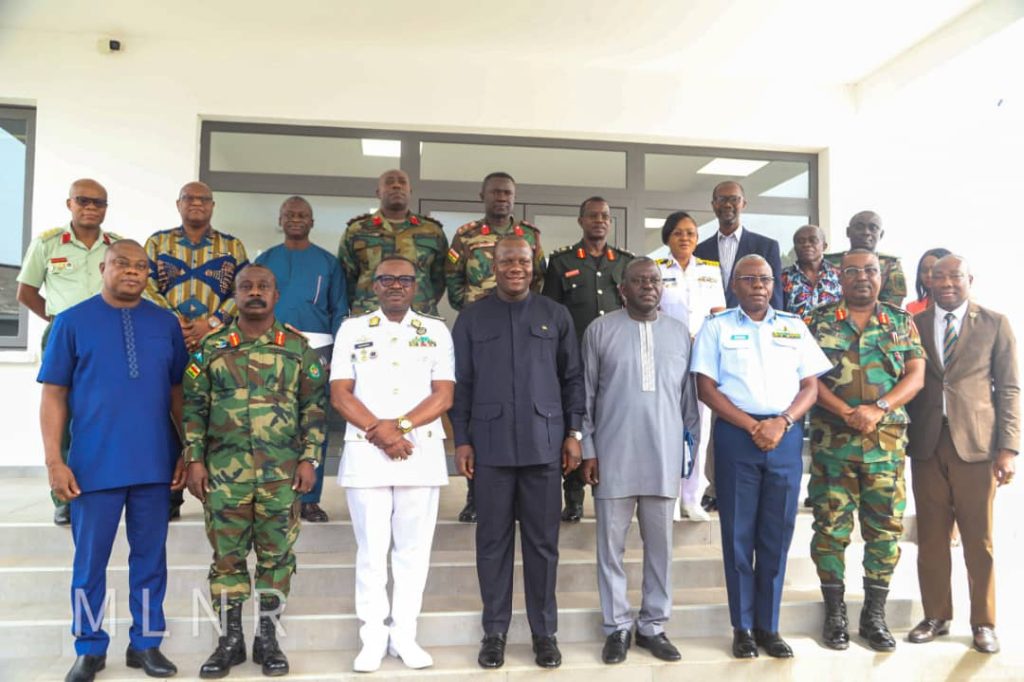 In the area of illegal mining, the Minister observed that the Ghana Armed Forces have played a frontal role in the battle and that the strides made wouldn't have been possible without the diligent and selfless work of the Military.
He, however, indicated that 2023 presents an opportunity for his outfit as well as the Military to collaborate closely and step up the fight to stamp out illegal Mining activities.
He assured of the readiness of the Ministry to deepen its collaboration with the Military to not only fight illegal mining but also deal with issues in the Land and Forestry space.
The Chief of Defense Staff, Vice Admiral Seth Amoama noted that the frequent engagement initiated by the Ministry with the Armed Forces is indicative of the premium and appreciation the Ministry places on its relationship with the Army.
He assured that the Military's commitment to the fight against illegal mining remains resolute and will avail themselves for the National course when they are called upon.
The Military, through the Operation Halt II task force, is the leading anti-galamsey brigade in the country.
Story by:Kwaku Stephen